Our new TV Show called Lake Life will air Memorial Day at 10 pm on DIY Network! Check out the preview video "Lake Life Sizzle" (password - backroads).
For the first episode, we build what is perhaps the coolest mancave on the planet... It's a Volcano-themed Floating Island that is totally Solar-Powered. Inside are Cave Walls with Hieroglyphics, Glass-bottom Floor, Big-screen TV, Running Water, Heating, Air, Dart Board, Foosball, and many more Mancave-type amenities. Oh yeah, it also has an Upper Deck, Lower Deck, and Neon Lava Lights. Here are some pics:
You will have to watch the show to see the rest of the pics/process/features!

So for our second episode we did a big boathouse renovation over near Fiatt in Fulton County. We added a full blown Waterslide, Rope Climbing Wall, Grill, Bar, Tension Shade Sails, Boat Lifts, and a bunch of cool furniture, etc.... Here are some pics:
So filming was actually a lot of fun. We had cameras in our faces for about 2 weeks, but after a day or so you kinda get used to it. Here is a fun pic of our crew - camera guys, designers, director, audio, etc: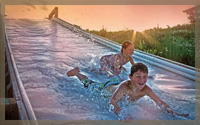 So now we just wait to see if America likes the show and hopefully they order more episodes...
Check out the DIY Network for more information.