Super Bowl Sunday Ice Fishing


-Lightning, Thunder and a Snowstorm
Compliments of Nate Herman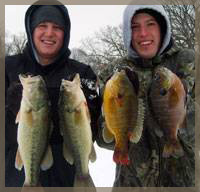 Super Bowl Sunday 2008, I had to get both kids down for their naps before I was allowed to go out ice fishing for the afternoon. That was the deal I made with my wife so she would allow me to ice fish for the third consecutive day. I also had to be home by 4 pm to help get the kids ready for the party we were supposed to attend that evening. Treading on thin ice is something I do pretty regularly during ice fishing season, but I knew this particular occasion I should be home on time! I couldn't use the "this is part of my job" excuse this time, because this wasn't a guided trip, I was actually going fishing just for fun!
I finally got out on the ice a little after 2 pm and my fishing partners for the day, my brother Chad and friends Luke and Ryan, were already out drilling holes, but not catching any fish. They were fishing in our usual hot spots, but the fish where not there. We moved around a lot and caught a few small fish, but still were not marking any fish on our vexilar unit. After about 45 minutes on the ice we had tried all of our best ice fishing spots, and were rapidly running out of time.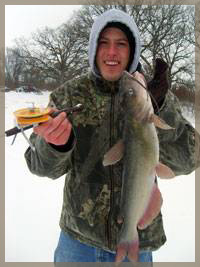 We were just about to give up, when Ryan decided to drill a hole in the middle of no man's land. Before his big ugly jig dropped down to the bottom he was hooked up on a huge bluegill. I wasn't going to say anything to him earlier, but his jig was just not a good choice for a typical slow ice fish bite. Then he dropped down again and hooked up again. I did what most any ice fishermen would do in this situation, come over and give him a helping hand catching this nice school of fish. Kind of like mushroom hunters helping each other pick all the mushrooms in a nice patch!
We drilled several holes around this barren wasteland that probably never has been fished before, and started to catch fish like the old timers used to catch back in the good 'ole days. Ryan was able to land 2 nice bass back to back on his oversized, ugly jig before I was able to get my hole drilled, so I decided to tie on my jigging rapala and get in on the big fish action.
As we were enjoying the best ice fishing day known to man, the weather was definitely changing. It was already windy and overcast, but as the wind started to calm down just a bit, I could feel the temperature dropping just a few degrees. There was definitely a storm moving in, but this particular storm I will remember forever. We could see lightning and hear the thunder rumbling in the distance. There was an extremely different, eerie feeling in the air. Here in the Midwest it is very unusual to hear thunder during a winter snowstorm. I have only seen and heard this one time before, but nothing as amazing as this storm was producing.
The storm was moving in, the fish were biting better and better every minute, and 4 pm was rapidly approaching. I was faced with a tough decision, one that I would regret no matter what choice I would make! I would have loved to stay out on the ice catching lunker fish during an amazing thunder snowstorm, but chose to honor my end of the deal I made with my wife. From 2:45 to 3:30 pm we caught 56 bluegill, 2 bass, and a catfish. Not one fish caught during that time span was under 1/2 pound!
I was able to observe the full fury of the lightning and thunder snowstorm up close en route to the super bowl party. Visibility was next to nothing with the snow coming down so heavy, but the sky would light up every minute or so with each violent yet majestic lightning strike. We arrived to our destination a few minutes late, but just in time to watch the Giants score the first few points of the game. They went on to upset the Patriots and pull off the biggest upset in Super bowl history! Definitely a day filled with events I will never forget.