Perch and walleye in central Illinois
June 03, 2008 at 08:17 AM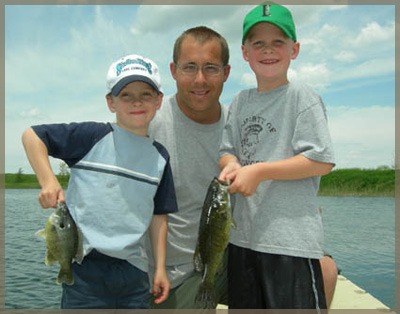 We were eating ice cream the other day in Elmwood when Nate and Justin Herman pulled up. As if the ice cream wasn't reward enough for my boys, Nate dangled another sweet enticement in front of the already-spoiled duo. "Hey, you boys need to come out fishing with us," he said. Eyes lit up. On the way home, questions were asked, promises made. Monday those promises were finally fulfilled. And how. The boys have no idea how lucky they were to spend a great day of fishing in Fulton County with the Hermans, who run Herman Brothers Pond Management in Peoria (an advertiser on our Web site).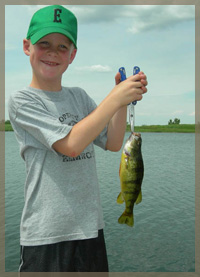 People have asked since our trip, "What did we catch?" What didn't we catch is a better question. In the course of six hours of fishing, swimming, riding jet skis and jumping on a trampoline, the boys and Nate (with some help from Chef Todd and I) caught the following species: largemouth bass (up to 18 inches), smallmouth bass (up to 15 inches), channel catfish, crappie, bluegill, hybrid bluegill, green sunfish, perch (fat, healthy, beautiful fish up to 13 inches and many smaller like the one held at right by a young angler named Henry Lampe who had to use a pliers to hold the fish since they were too strong to be finger gripped and kept wriggling out of his grasp), walleye and striped bass. All from the same lake. All in central Illinois.
Hard to believe. Perch and walleye in a central Illinois lake? In good numbers? Along with your typical bass-bluegill-crappie-catfish mix? Plus striped bass? Wow. Nate called it "The Grand Slam." About the only species available in the Herman's lake we did not catch was muskie, though Chef alleges a toothy rascal bit the tail of his pink fluke.
In the interest of full disclosure, I must note that these fish are fed and fed well. The lake is managed for fish, as you might expect from a couple of fish managers. Even so, the fact all these predators are thriving in the same clear-water lake is impressive. For me, the highlight of the day was seeing the perch. They are gorgeous fish that we just don't see much of around here. I guess there are some in Oak Run and in some other nearby strip mines. But I've never caught any outside Lake Michigan or Wisconsin. So to find them so close to home was a real bonus. Nate said there will be more and more perch and stripers in area lakes after a spring in which they stocked more than 1 million fish.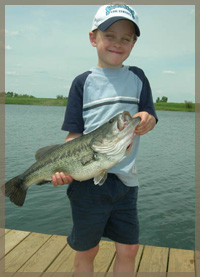 To me that's great. I love fishing for bass. And I love seeing my kids land a bass (like the one at right held by a young angler named Victor Lampe). But variety is the spice of life. To find a lake with bass-catfish-crappie plus bonuses like perch and walleye is truly unique. As if that wasn't enough, Chef Todd even bought the kids ice cream on the way home. What a day.