Scattershooting
A Web log by Jeff Lampe of the Journal Star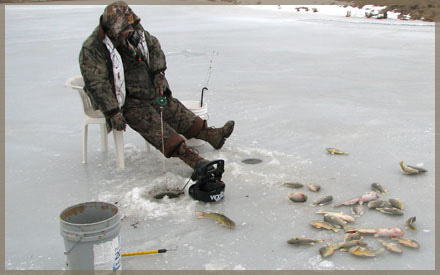 Ice nice and fish are biting
February 11, 2008 at 09:14 PM as printed on www.prairiestateoutdoors.com
Sure it was cold out there this morning. When I dropped the kids off at school, the van thermometer read 6 degrees.
But the fish were biting. And the ice was safe. And I'm glad Chef Todd and I got a chance to fish with Nate and Justin Herman, the brothers who run Herman Brothers Pond Management. They put us on two lakes with good panfish populations and we certainly enjoyed ourselves.
My best action came in 8 feet of water, right off the bottom, using two-spots and waxies or tiny rocker jigs made by Roch Klockenga of Edwards. At one point, I broke off my two-spot jig when line got tangled on the ice (and my ice cleats). But a few minutes later, I caught a bluegill that had my new rocker jig and that old blue two-spot in his mouth. Here's a picture at right, showing my double-caught fish.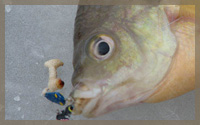 Other than that, the most noteworthy thing was that the ice was good. On one 5-acre lake, we had 5 solid inches of ice. On another lake we actually had 8 inches in the middle, though the edges were closer to 3 inches according to Nate (and there were spots you could tell had just recently frozen).
"When these lakes came up after all the snow and rain, the edges got really bad," Nate said.
I've heard that from several anglers in central Illinois in the past week. But based on what I saw today, I'd feel pretty safe getting back out on the hard water. Hey, if burly men like Chef, Nate, Justin and I can all fish safely in close proximity, most of you skinny readers will be OK. Speaking of putting on the pounds, Chef fired up a wonderful beef stroganoff after fishing that helped take the cold right out of me.
Here are Nate (left) and Chef with most of the fish we caught. The largest bluegill was 9.5 inches long and we had several 9-inchers. We also tossed back several smaller bluegills.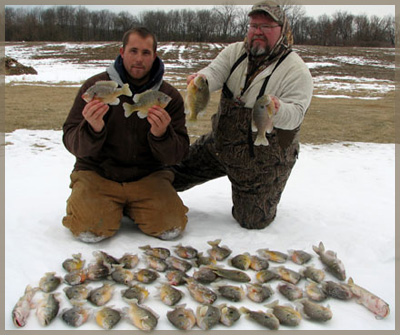 Thanks to Justin and Nate for a great day. If you are interested, they are guiding ice fishing trips in the Peoria area and also have access to a prime trout fishing pond. Fishing with them got me to thinking about my 10 best guided fishing trips ever. Look for that story in the near future some Sunday in the Journal Star.