Got Fishing Fever? Join a Club
by Kevin Patton
Every species of fish has its advocates. Some of us fish for "anything that swims," but a large number of anglers have a special passion for that one species of fish that pushes their buttons.
Such a group belongs to the Illinois Smallmouth Alliance, whose central Illinois chapter meets each month during winter in either Peoria or Heyworth. The rest of the year, these smallmouth enthusiasts are chasing those brown fish in Illinois waters, such as the Mackinaw, Vermillion, Green, and Kaskaskia Rivers.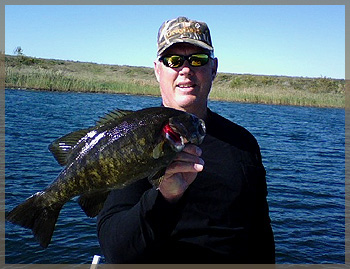 This is the quality of smallmouth available from small ponds and strip pits that are properly managed.



Photo courtesy of Herman Brothers Pond Management.
Jonn Graham, operator of Camp Smallmouth and a smallmouth guide from Minonk, runs the meetings and is impressed with the growth of the group. The Alliance has grown from 25 members in 1993 when Graham joined to more than 500 anglers across the state, with about 80 of those members in the Central Illinois area.
The increasing popularity of smallmouth bass fishing is evidenced by the fact that 100 new Alliance members have joined at various sport shows this winter.
However, there's more to the Alliance than just meetings and fishing. Their main goal is to "preserve the smallmouth bass and its habitat for future generations."
Alliance members are involved in a variety of activities across the state, including river and stream cleanups, habitat restoration, catch and release promotions, and providing assistance to the Illinois Department of Conservation for a number of projects.
A highlight of the Alliance year is the annual Bronzeback Blowout (See our Events Page for March). The $25 per person event features a catered dinner, speakers, raffles, and a silent auction.
Alliance member Nate Herman spoke to the group during the Feb. 15 meeting at the Peoria Gander Mountain store. Herman is co-owner of Herman Brothers Pond Management, which specializes in fish stocking and water management in small waters such as ponds and strip pits. They also offer lake and land mapping services, as well as guided fishing trips.
Herman spoke to the group about the success his company has seen by stocking smallmouth bass in ponds and pits.
"Smallmouth bass are becoming popular and are thriving in ponds and strip pits," said Herman. "Smallmouth are not as easy to grow as largemouth," he added, "but they are doing awesome in smaller waters and are reproducing real well."
Herman Brothers stocked one private, 25-acre pond near Norris, Illinois with four to five-inch smallmouths during 2004 and supplemented their natural forage with protein pellets. Last year, smallmouths that weighed nearly four pounds were caught from the pond.
Herman noted that smallmouth are more aggressive than largemouths and that some smallmouths in his ponds will actually take a minnow from your hand.
He maintains that a wider variety of fish species can survive in Illinois ponds than most people believe. "Having to have deep, clear water is a myth," said Herman.
Herman's talk was accompanied by an enthusiastic discussion about the smallmouth bass and what makes it the favorite on-the-water pursuit of these avid anglers.
Whether your passion is smallmouth bass or another of the species available in Illinois, you may want to consider joining a club to enhance your fishing experience and knowledge. Refer to our Fishing Clubs page to find a club in your area.
Alliance meetings are open to the public, but fishing outings are limited to members. The outings are exclusively held on Illinois streams and rivers for those who wish to wade or fish from a canoe. Their web site can be visited at: www.smallmouth.org/
For more information about the Alliance, guided smallmouth trips, or Camp Smallmouth, contact Jonn Graham at 309-399-7055 or email him at: jaden@mtco.com
Herman Brothers Pond Management can be contacted by calling 309-303-5691 or by visiting their web site at: www.hbpondmanagement.com/